Maroon Base Updates: 08.2.18
Maroon Base Updates: 08.2.18
8 February 2018 (by Northern House School (Pupil Referral Unit))
Maroon Base have been learning about light in science!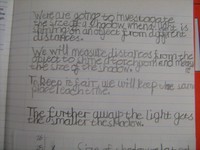 Through our topic on light, Maroon Base have experimented making shadows using some shadow puppets of ours. We also made up an investigation to see how the size of a shadow changed when we moved a light source further away from it. We made sure to keep out test fair by keeping everything else the same.
We recorded our results in a chart and drew a line graph to show them clearly.
We made sure our work was VERY neatly done!