Green Base Updates: 08/02/18
Green Base Updates: 08/02/18
8 February 2018 (by Northern House School (Pupil Referral Unit))
Weekly Green Base Updates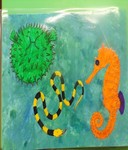 A great week in Green base where we have been learning common exception words by planning bingo, team building, cooking, swimming and, oh yes, had tea with a tiger!
Common exception are those words which we sometimes call tricky words, such as she, he, by, me, my and many more. They are really difficult to learn to read and to spell, so the children have been using a game of bingo to identify the words, read the words and then spell the words. Who knew you could get so excited, but Charlie and Jacob did!
We have been very conscious that sometimes the children need to work together to achieve a common goal and feel success through team spirit. Therefore, one afternoon a week the children will be set tasks or given the opportunity to work together to create something for each other, as well as have one to one working on SEMH activities with the teacher.
This week we had our fortnightly visit to the pool at Westcroft School and those children who had been nervous and anxious were absolutely loving the water this week. Enzo was kicking with a dongle across the width of the pool, with one of our youngest, Charlie, using a dongle to support him moving across the pool with the biggest smile on his face. Jacob, who last week would not let go of the side, was safely jumping in the pool and getting himself out and going again. A big thanks to Mr Askwith and Miss Evans, our qualified lifeguards, for giving the children the confidence to achieve such a huge turn around.
Well, what a mess in our classroom on Friday morning when we arrived. Cornflakes, squashed fruit, crumbled biscuits, VERY large paw prints and a strange smell in our cupboard. What happened Thursday night in Green base?...See main news brief to find out if we were able to solve the mystery and what a tiger had to do with it!
Green base Star of Week is Charlie who has shown that you can make a new start when you have had a challenging and difficult week. We are all very proud of you Charlie, well done.